Company Profile
Carmex Precision Tools Ltd. is a leading manufacturer of high quality cutting tools. The company was founded in 1988 in Maalot, located in the beautiful North West region of Israel. Today, we are known globally as a service-oriented company, and as a very competitive supplier.
The company maintains a high level of R&D in order to offer products that include technological innovations to its customers. Carmex does not compromise on quality – using equipment, raw materials, and tools from leading brands, as well as highly skilled manpower.
Product Lines
The company's products are recognized worldwide for their advanced technology and reliable, full-range product lines that offer accurate geometry, excellent cutting performance, and extended tool life. Carmex also produces special tools in accordance with the customer's requirements.
Our range of cutting tools includes solutions for the following applications:
Threading tools for milling and turning (our specialty)

Grooving

Chamfering

Profiling & boring

Broaching

Gear Milling

and more…
Quality Assurance
In addition to our unyielding strive for high quality, speedy service, and reliability, Carmex is certified by ISO 9001:2015, ISO 13485:2016, ISO 14001:2015, OHSAS 18001:2007, and CE.
You can read more about our quality policy here.
Locations & Distribution
Carmex supplies its products worldwide through a wide network of exclusive agents and distributors. Additionally, Carmex has three independent sales branches. Each of them keeps Carmex's wide range of stock, and employes talented, service-oriented managers, engineers, technicians and administrators willing to fulfill the customers' needs.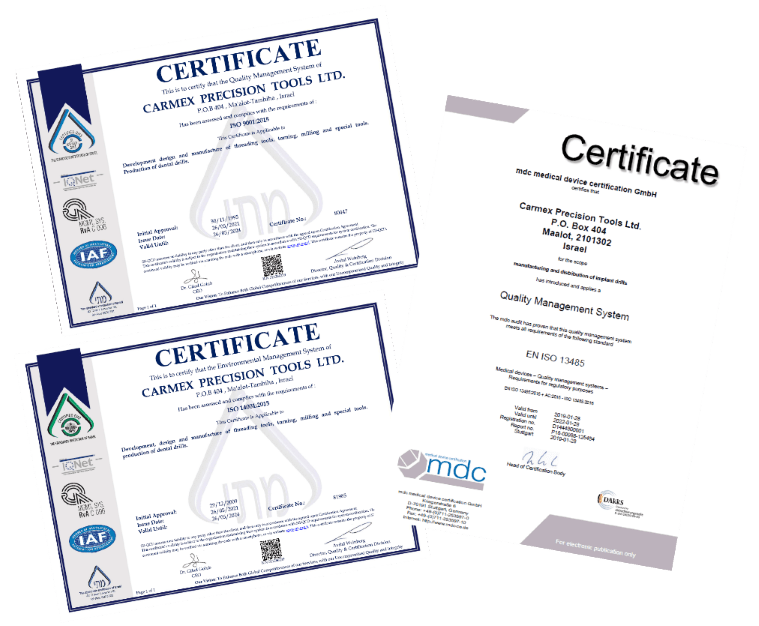 Carmex
The Optimal Tools for Your Industry
Our Headquarters
Our Israeli headquarters are located in a state-of-the-art, modern building. In addition to the construction, we also invested heavily in advanced machinery and equipment as part of our strategy to keep our position in the first row of cutting tool manufacturers.
Sales Branches
C.P.T. GmbH, located in Stuttgart, Germany (serving Europe)
Carmex Precision Tools LLC, located in Wisconsin, USA (serving N.America and Mexico)
Carmex Italia Srl, located in Modena, Italy