Company Profile
Carmex Precision Tools Ltd. is a leading manufacturer of high quality cutting tools. The company was founded in 1988 in Maalot, located in the beautiful North West region of Israel.
Product Lines
Carmex specializes in the production of threading tools for turning and milling. Our product lines include:
Thread Turning inserts and tool holders

Mill-Thread Solid Carbide

Mill-Thread inserts and tool holders

Spiral Mill-Thread

Slim MT

Grooving Tools

Tiny Tools

Swiss Tools

CMT Vertical Milling

Thread Whirling

End Mills

Mini Chamfer

Taps

Diamond Tools
In addition, we have a Dental division producing Dental Drills for the Dental implants industry.
The company's different product lines are recognized worldwide for their advanced technology, reliable full range lines that offer accurate geometry, excellent cutting performance and extended tool life.
Our products and service we provide live up to the highest standards and outperform them. Carmex also produces special tools in accordance with customer's requirements.
Quality Assurance
Our unyielding strive for high quality, speedy service and reliability is supported by the following International standard certificates:
ISO 9001:2015

ISO 14001:2015

ISO 45001:2018

ISO 13485:2016

CE
Stock & Service
Most of our customers' requirements are supplied immediately from our readily available wide range of inventory, as well as from our branches, agents and distributor's stocks around the world.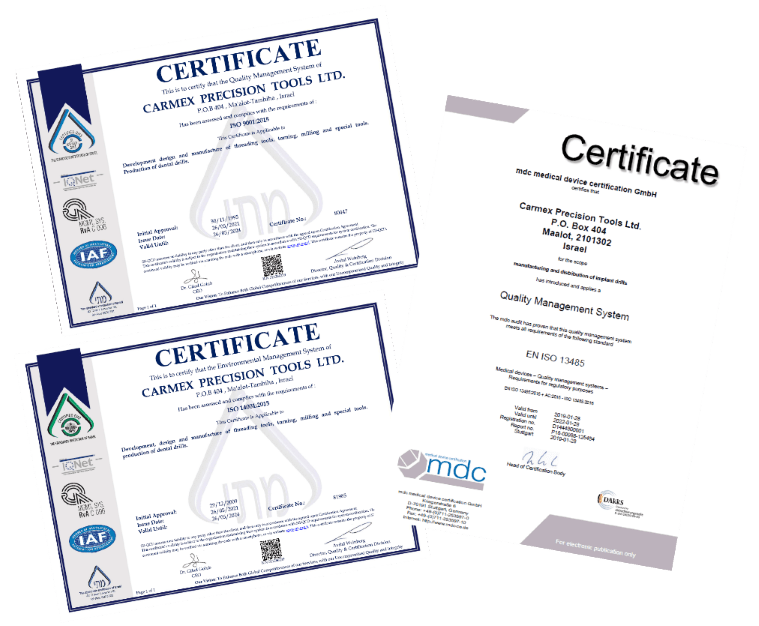 Carmex
The Optimal Tools for Your Industry
Company Development
In August 2008, Carmex completed its transfer to the new, state-of-the-art modern building. In April 2019 we occupied another new building. Both buildings include significant investments in advanced machinery and equipment, as part of our strategy to keep our position in the first line of high technology, and to support our development plans.
Carmex Branches
In addition to its distributor's chain, Carmex has four independent sales branches. It employs talented, service-oriented managers, engineers, technicians and administrators willing to fulfill the customers' needs:
2003 – C.P.T. GmbH, located in Stuttgart, Germany
2004 – Carmex Precision Tools LLC, located in Wisconsin, USA (serving North America and Mexico)
2008 – Carmex Italia Srl, located in Modena, Italy
2018 – Carmex India, located in Pune, India
Carmex is recognized as a high-quality cutting tools manufacturer, a service-oriented company, and as a very competitive supplier that pledges for customer satisfaction.